Articles
The Five Key Leadership Competencies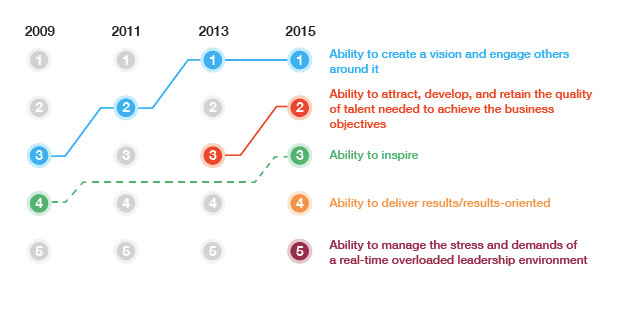 According to a 2015 study by EDA (Executive Development Associates), when asked to look down the organizational funnel at the next generation of leaders who are most likely to fill executive positions in 3-5 years, survey respondents reported that the ability to:
"Create a vision, convey it to others, and inspire and engage people around that vision" as the single most important competency for emerging leaders."
Simultaneously reported was this was the most lacking ability in the emerging generation of leaders.
The top 5 priorities identified as key objectives for executive development over the next 2-3 years:
1) Ability to create a vision and engage others around it
2) Ability to attract, develop and retain the quality of talent needed to achieve the business objectives
3) Ability to Inspire
4) Ability to deliver results
5) Ability to manage the stress and demands of a real-time overloaded leadership environment.
The EDA report suggests there is a gap between the needed competencies, such as Visioning, and the priorities on which executive development programs are focusing. It will be important for organizations to address this disconnect in order to effectively develop future leaders.
Developing current and future leaders will remain one of the most pressing challenges that organizations will face in coming years.